Find this page online at: http://jam.org.au/moxie/venues/hh/peace.shtml
Loosely Woven presents 'Song of Peace'

6th - 20th December, 2009
By Wayne Richmond
Posted Sunday, November 8, 2009
'A Song of Peace' was written in 1934 by Lloyd Stone using the beautiful Finlandia Hymn melody composed by Jean Sibelius. It was later sung by Mary Travers (from Peter, Paul & Mary) who passed away in September. As a tribute to Mary, Loosely Woven begins its 2009 Christmas concert with a spectacular Maria Dunn arrangement of this song.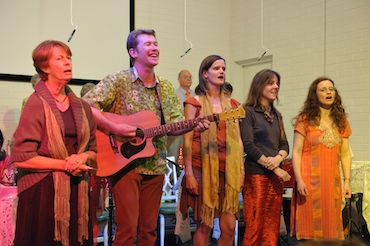 The program includes two other Peter, Paul & Mary songs, a smattering of carols (including an amazing arrangement of 'Good King Wenceslas') plus the usual Loosely Woven eclectic mix!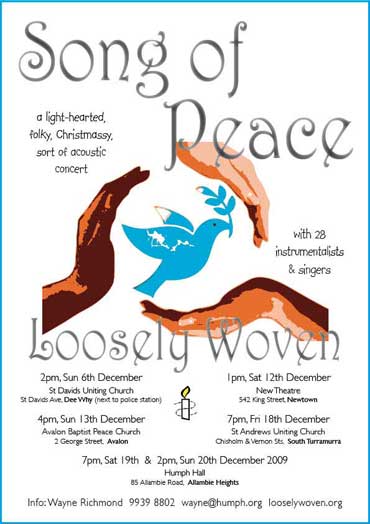 There are 28 of musicians performing this time with the biggest line-up of instruments ever including: six string players (violins, viola and two cellos!), harp, flute, clarinets, saxophones, mandolins, guitars, keyboard, concertina, accordion, keyboard and for the first time, a trumpet!
See the 'Song of Peace' web site for details of the program.
All Loosely Woven concerts are performed acoustically - no PA!
There will be six public performances:
St Davids Uniting Church, Dee Why
2pm, Sun 6th December
St Davids Ave (next to the police station)
New Theatre, Newtown
1pm, Sat 12th December
542 King Street (midway between Newtown & St Peters stations)

Avalon Baptist Peace Church
4pm, Sun 13th December
2 George Street, Avalon
(for Amnesty International)
St Andrews Uniting Church, Sth Turramurra
7pm, Friday 18th December
Chisholm & Vernon Streets,
Humph Hall, Allambie Heights
7pm, Saturday 19th December
&
2pm, Sunday 20th December
85 Allambie Road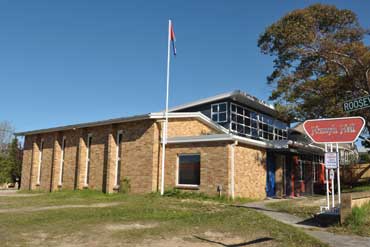 All of the concerts are free although donations will be invited at some.
The Humph Hall performances on Sat 19th & Sun 20th will be recorded and videod and made into a DVD.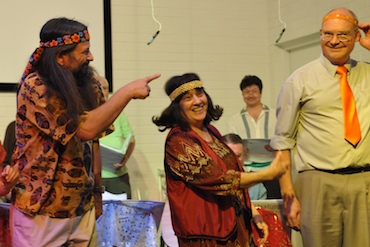 For more information visit the Loosely Woven web site or contact Wayne by email or phone: (02) 9939 8802, (0400) 803 804.