Find this page online at: http://jam.org.au/moxie/venues/thedog/DOG-November-2008.shtml
Lyrebird + Robin Connaughton @ The Loaded Dog

8PM, Saturday 22nd November 2008
By Sandra Nixon
Posted Monday, October 13, 2008
Tonight we're having one hour each from Lyrebird and Robin Connaughton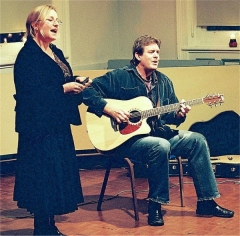 Lyrebird is the name for duo, Kate Henshaw (vocals, blues harp, glockenspiel, keyboard, accordion and recorders.) and Pete Doherty (guitars, blues harps and vocals). They share the singing, and describe their music as a mix of trad Celtic, pop and country with blues and jazz overtones. Beautiful harmonies, catchy tunes and quality lyrics accompany their songs.
Pete's rock and folk background provides a perfect foil for Kate's more classical sensibilities. They play contemporary folk, original blues and earthy roots music with intelligent lyrics and a mix of instruments. great vocal lines and close harmonies are supported by guitar, keyboard, blues harps, whistles and dulcimer.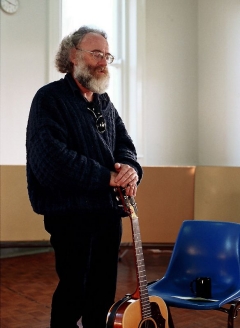 Robin Connaughton is shantysinger, wordsmith, debater, retired TAFE teacher. Over the years he has sung with anyone who would stand still long enough, but tonight he will be performing on his own (maybe with a friend or 2 on occasion!) & will present songs & poems from his Steelworks cycle, based on his 15 years working in the industry, starting as an apprentice & working as a Research Scientist.
Photos - Bob Bolton