Find this page online at: http://jam.org.au/moxie/venues/shack/the-shack-aug08.shtml
The Shack - August 2008

7.30pm, Saturday 2nd August 2008
By Kathleen Swadling
Posted Wednesday, June 11, 2008
The Tramshed
1395a Pittwater Road
Narrabeen
(In between the Ambulance Station and Car Park of Narrabeen Shopping Centre)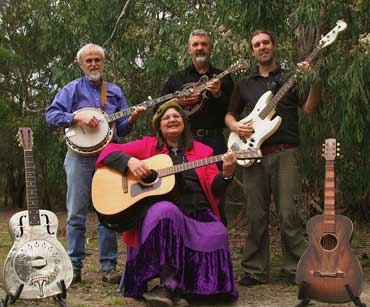 Guest artists this month include:
Blue Goose - In the late 1980's Whistling Goose, one of Sydney's favourite jug/folk/goodtime bands, came to an end after more than a decade of entertaining Sydney audiences. Blue Goose represents the renewal of the musical relationship between three of the members of Whistling Goose. It combines Sonia Bennett's powerful vocals and guitar with the multi-instrumental musicianship of Max Gregory and Bruce Stavert and Andy Stavert on bass. Blue Goose brings together a broad range of musical experience and skill and a love of music in many guises. Their many original compositions, interspersed with refreshing interpretations of songs of many genres old and new, combine with a whimsical approach to playing that makes them fun and great to listen to.
Scarlett Affection - Bangalow sisters Melia and Nerida Naughton have been joined at the hip since they were womb mates. Spending their (in)formative years in Sydney and then south of Hobart hanging out in a dilapidated apple orchard, stage shows were mandatory in the Naughton family household. Synergy and simpatico are central to the sound of Scarlett Affection. Harmonies and folk pop songs oozing with sass and soul. Affecting ballads that stir the poignant pot of emotion; soaring choruses that hook into your heart; quirky ditties that make you want to dance in the rain – Scarlett Affection have a blazing stage dynamic that throws opens the Pandora-like box of secretive sibling rivalry for everyone to experience. With a swag of live to air ABC radio performances under their belt, live shows lighting up the East Coast, reviews and press coverage all across the nation, and a prestigious International Songwriting Award from the 2008 Great American Song Contest, Scarlett Affection are renowned for being tender, ravishing, naughty, cathartic, magical and moving.
Spasm Band - You name it, they can do it. With the big voices of Andy George and Rhonda Mawer complimenting one another, plus the magic of Chris Blanchflower's wild harmonica playing and Graham Vick's funky double bass and harmonies, these accomplished singers and musicians deliver a diverse combination of jug, blues and folk. Members have played in a variety of bands over the years including Country Radio, The East Neasdon Spasm Band, the Stovepipe Spasm Band and the Wheeze and Suck Band.
Coffee and tea is available but BYO refreshments and nibblies.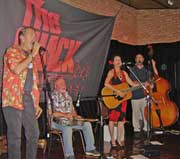 The Shack is held on the first Saturday of every month. There's a cover charge of $15 to cover costs. The Shack is a non profit organisation – all proceeds go toward the promotion and presentation of original, contemporary and traditional 21st century folk music.