Find this page online at: http://jam.org.au/moxie/events/sydneynorth/pastance-at-our-christmas.shtml
Pastance at our Christmas Party!

8pm, Thursday, 6th December 2007
By Jenny O'Reilly
Posted Thursday, October 4, 2007
Sydney based ensemble Pastance brings together an amazing diversity of musical ingredients. Harp, lute, recorders, fiddle, gittern, bagpipes, percussion and vocals are used in arrangements of Anglo/celtic folk, early European and original music to create a remarkable sound.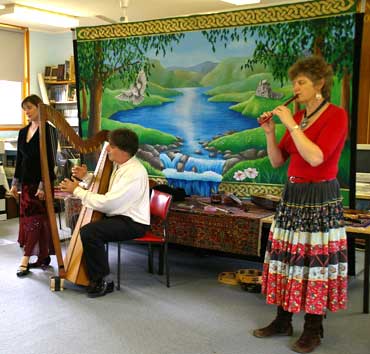 This Thursday, December 6 at North By Northwest, Pastance will present a delightful and unusual program of traditional, original and medieval music with the Rose at it's centre. There'll also be music from their new CD, "Sit Down Beside Me", as well as songs of hope and inspiration for the Christmas season.
This is a rare Sydney concert by Pastance, who this year have performed in Singapore, Glen Innes, Canberra, Kangaroo Valley, Arcadia and Jenolan Caves. Don't miss this opportunity to hear Alex Cronin on Harp and Lute (and bagpipes if you're lucky), Megan Cronin on vocals, shawm and recorders, Myfanwy Dibben on vocals and recorders and Chris Wheeler on vocals, guitar and flute. Who else could put Hildegard von Bingen on the same program as Tom Waits and get away with it?
Christmas party - bring along your friends!
This will be our Christmas party, so bring along your friends, drinks and nibbles and share a table! There will be plenty of opportunities for floorspots, with possibly a session at the end of the night - time permitting.
North By Northwest Poetry and Folk Club meets in The Cornucopia Cafe, and is one of the best acoustic venues in Sydney. Refreshments are available and BYO's are welcome.
Cornucopia Cafe
Old Gladesville Hospital
Corner Victoria Road and Punt Road, Gladesville
For directions see this article.
Enquiries:
Jenny/John (02) 9559 3658 (h) or (0414) 903 259
Geoff (02) 9816 0393 (w) or (0421) 582 975
See you there!