Find this page online at: http://jam.org.au/moxie/events/sydneyeast/DOG-May-2007.shtml
Huldrefolk & Mary-Jane Field @ The Loaded Dog

8pm, Saturday 26th May 2007
By Sandra Nixon
Posted Thursday, April 12, 2007
HULDREFOLK -
In the ageless glow of candlelight, Yuri the Russian Storyteller captivates his audience by creating word images that bind the listener to the magic of the classic folktale. Yuri is the archetypal village storyteller, and has performed throughout Australia – including World Expo (Brisbane 1988), annual Folk Festivals (Port Fairy, Maleny, and the National in Canberra), and National radio and television.
Multi-award winning songwriter Paul Hemphill has performed throughout Australasia and the UK as a solo artist and with HuldreFolk, combining poetry and music, horror and humour. Vikings, Romans, Mongols, and the Spanish Inquisition have all faced the music! Something old, something new, something that may take us disappearing down the foggy ruins of time – pushing poetic licence to its hazy limits, reacquainting us with his particular take on history, imparting an altogether different perspective on pandemonium and pain, and sharing with us his curious anthems of power, pride, and prejudice.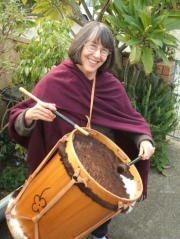 Mary-Jane Field has been singing folk music most of her life, as well as writing songs in the modern folk vein. She has performed at many folk festivals in various parts of Australia, as well as at an international folk festival in Argentina where she was an invited guest performer on two occasions.
The driving force behind her musical life is folk music from two different regions under the Southern Cross – Australia, where she has lived for over thirty years, and South America, where she spent her childhood and young adulthood.
She accompanies herself on the guitar, sometimes with percussion and often simply a cappella, the way she started out singing as a young girl. She involves her audiences as much as possible, in choruses and with side percussion from her "bag of tricks" -- including goats' toenails and other surprise instruments!
Among her most prominent recent musical activities have been her work as a community choir leader, principally the Bright Star Singers; her Cantata for Domitila, an original folk opera; and her productions of the Misa Criolla, a suite of five choral songs from Argentina.