Find this page online at: http://jam.org.au/moxie/venues/shack/the-shack-may07.shtml
The Shack - May 2007

7.30pm, Saturday 5th May 2007
By Kathleen Swadling
Posted Wednesday, April 4, 2007
The Tramshed
1395a Pittwater Road
Narrabeen
(In between the Ambulance Station and car park of Narrabeen Shopping Centre)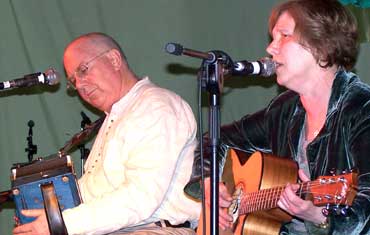 Guest artists this month include:
Jugalug String Band - String Bands were all the rage in the 1920's and 1930's and The Jugalug String Band plays a repertoire of music based upon the styles of these early string bands. The music is fun and exciting and many of the bands' instruments are unique, dating back to the early part of the twentieth century. The musicians hail from a variety of bands such as Mic Conway's National Junk Band, The Original Sweaty Palms Orchestra, The Stovepipe Spasm Band and The Fiddlers Feast. One of them even played with Tiny Tim. This will be a real treat and definitely not one to be missed.
Coolfinn Mac - This multi-instrumental group delivers trad style music with a contemporary edge, combining the magic of music from the Celtic nations with Australian and original material, creatively blending instruments and styles. Coolfinn Mac will take you on a musical journey with their exciting fusion of past and present, songs and tunes, both old and new.
Tully (see picture below) - a talented young acoustic singer/songwriter/multi-instrumentalist from the Northern beaches of Sydney who comes from a folk background and has merged his influences to develop a unique and original sound. His driving guitar rhythms support melodic vocal deliveries, creating an energetic show that draws the audience into his journey
Coffee and tea is available but BYO refreshments and nibblies.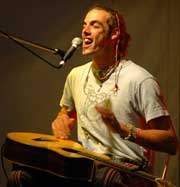 The Shack is held on the first Saturday of every month. There's a cover charge of $15 (or $10 for members, students and pensioners) to cover costs. The Shack is a non profit organisation – all proceeds go toward the promotion and presentation of original, contemporary and traditional 21st century folk music.